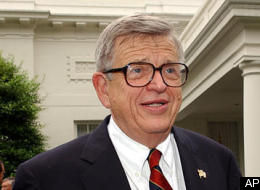 On Saturday afternoon, Prison Fellowship Ministries Founder Charles Wendell "Chuck" Colson died. He was 80 years old.
Colson collapsed while giving a speech in late March, and had emergency surgery to remove blood that was pooling in his brain. Though his death was expected — Prison Fellowship announced on its Web site Wednesday that he had taken a turn for the worse during a lengthy hospitalization, and his family had gathered by his bedside — his loss rocked the evangelical Christian world nonetheless.
"America has lost a gentleman and statesman of the highest integrity and character," said Focus on the Family President Jim Daly. "I've lost a dear friend and mentor who, most importantly, modeled for me how to stand for God's truth with Christ's heart. Chuck was an endlessly selfless man, whose love for and ministry to those in prison made him one of the great modern-day lions of the faith."
Colson rose to prominence as special counsel to President Richard Nixon, but fell from grace during the Watergate scandal in 1972. As one of the "Watergate Seven," he was the author of the president's infamous "enemies list," and later said he was willing "to be ruthless in getting things done."
Colson was indicted for covering up the Watergate break-ins. While the charges were pending against him, a friend gave Colson a copy of the C.S. Lewis book Mere Christianity — forever changing the course of his life. Colson became a committed Christian, which led him to plead guilty to obstruction of justice while a judge was considering dismissing the case against him. He served seven months of a one- to three-year prison sentence.
In 1976, Colson founded Prison Fellowship Ministries, which now operates in 113 countries around the globe. Colson personally visited 600 prisons in the U.S. and 40 other countries over the last four decades of his life.
"God uses prisons," Colson once said, "to train people for future roles of leadership or martyrdom."
The number of lives Colson touched is inestimable: In addition to sharing the Gospel with prisoners, Prison Fellowship grew to include the Angel Tree program, which coordinates with churches and volunteers to care for prisoners' children; Justice Fellowship, which advocates for criminal justice reforms; BreakPoint, a worldview ministry that airs on 1,400 outlets each week; The Centurions Program, which is an intensive Bible study program for people seeking to leave their stamp of faith on the culture; and the Chuck Colson Center for Christian Worldview, a resource ministry.
At one point, 50,000 church volunteers worked with Prison Fellowship Ministries. This year alone, 220,000 prisoners in 1,367 prisons across the country have attended one of its Bible studies.
Colson wrote 30 books, selling more than 5 million copies total. In 1993, he won the Templeton Prize for Progress in Religion — the largest in the world — and donated the $1 million check to Prison Fellowship. The bestseller Born Again was made into a feature film, and to date, more than 600 Christian leaders have completed the Colson Center's Centurions Program.
From his own personal trial, Daly said, Colson "emerged as a shining example of the redemptive power of Jesus and spent the rest of his life setting aside his own ego for the sake of others, investing his time and energies in those besides himself.
"Chuck was never threatened by anyone else's success, especially those of the 'next generation,' " he noted. "He was actually energized by it. That is the mark, and the legacy, of a great man."
Colson spent his early career in the 1950s with U.S. Marine Corps, eventually becoming assistant to the Secretary of the Navy. He started his own law firm in 1961, joining the Nixon administration in 1969.
He was married twice: to Nancy Billings in 1953, having three children before the marriage ended in divorce in 1964. Colson married Patricia Ann Hughes that same year.
He is survived by her, as well as three children and five grandchildren.
Contact: Karla Dial
Source: CitizenLink